投稿者 Sちゃん 日時 2004 年 2 月 13 日 01:36:23:4kC3WMVanvmFc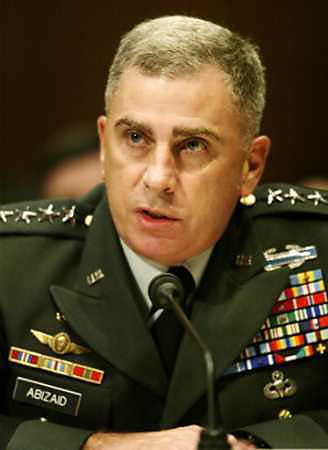 The U.S. commander in the Middle East, General John Abizaid, escaped unharmed from a rocket-propelled grenade attack in Iraq on February 12, 2004 the U.S. army said. "At 1330 in Fallujah, General Abizaid and General (Charles) Swannack were visiting a local Iraqi civil defense corps compound when three rocket-propelled grenades were fired at their convoy from rooftops nearby," Brigadier-General Mark Kimmitt told a news conference. "No coalition soldiers or civilians were injured." Abizaid is seen in Washington in this September 24 file photo. Photo by Jason Reed/Reuters
ジョン・アビザイド司令官、ロケット榴弾で狙われたが上手く逃げた。
こいつは確か、度々クソな発言でイラク国民を挑発し、強硬作戦を指揮していた張本人だった筈。
ウォルフォビッツといい、ポール・ブレマーといい、死んでも良い奴がまた都合良く上手く逃げる。
と云うより、わざわざ屋根を狙って外してるっぽいし。
昨日も今日も、多分明日も、死ぬのはイラク人の警官と、職を求めて来たイラク市民。
占領軍は何やってるんだ! という声を意識してか…
我々だってちゃんと狙われているんですよ。と云う演出でしょ?
あまりにも出来過ぎ。
Reuters.com
http://www.reuters.com/
http://www.reuters.com/newsArticle.jhtml;jsessionid=OWD02PTGKZB42CRBAEZSFEY?type=topNews&storyID=4345994

U.S. Mideast Commander Escapes Iraq RPG Attack
Thu February 12, 2004 10:02 AM ET


BAGHDAD (Reuters) - The U.S. commander in the Middle East, General John Abizaid, escaped unharmed from a rocket-propelled grenade attack in Iraq on Thursday, the U.S. army said.
"At 1330 in Falluja, General Abizaid and General (Charles) Swannack were visiting a local Iraqi civil defense corps compound when three rocket-propelled grenades were fired at their convoy from rooftops nearby," Brigadier-General Mark Kimmitt told a news conference.
"No coalition soldiers or civilians were injured."
Kimmitt, the chief U.S. military spokesman in Iraq, said American forces returned fire and unsuccessfully pursued the assailants.
"Whether we can directly link this attack to any foreknowledge that General Abizaid and General Swannack were going to be there is a leap that we are not going to make at this time," Kimmitt said.
Kimmitt has previously denied suggestions of leaks from the U.S. military on the movements of high profile visitors.
Falluja, 32 miles west of Baghdad, is a hotbed of anti-American activity in Iraq and is part of the area known as the Sunni triangle, Saddam Hussein's former power base.
Abizaid is the third high-profile American official to escape an attack in Iraq.
The others are U.S. administrator Paul Bremer, whose convoy was attacked in December, and Deputy Defense Secretary Paul Wolfowitz, whose Baghdad hotel was hit by rockets.
Kimmitt said eight mortars were fired at a U.S. base in Baghdad on Thursday, slightly wounding three soldiers.

---
---
投稿コメント全ログ
コメント即時配信
スレ建て依頼
削除コメント確認方法
---
★阿修羅♪ http://www.asyura2.com/  since 1995

 題名には必ず「阿修羅さんへ」と記述してください。
掲示板,MLを含むこのサイトすべての
一切の引用、転載、リンクを許可いたします。確認メールは不要です。
引用元リンクを表示してください。