投稿者 Sちゃん 日時 2004 年 2 月 15 日 17:17:00:4kC3WMVanvmFc

(回答先: 通りに面した店の店主は、襲撃は予告されていたと語る。他【Kotv】 投稿者 Sちゃん 日時 2004 年 2 月 15 日 16:41:54)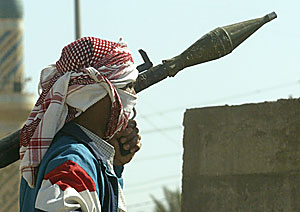 An Iraqi trooper securing the facility that was attacked / AFP
少なくとも27人死亡、30人負傷。
「未知の襲撃者」は警察を襲い、囚人を解放したが、解放されたのは「犯罪者」ばかりで
反米活動家、抵抗勢力を組織する指導者などではない。
「これはアメリカの仕業だよ」と警官の一人は言う。

警官達の反撃で死んだ「未知の襲撃者」のうち2人はレバノン人と思われる。
「40人ほどの覆面をした攻撃者が約10台の乗り物に乗り、隣接した警察署を襲撃したのと同時に、
私たちの建物を攻撃した」とICDC職員Dureib Salah Hamadが言った。

黒装束で、balaklavaを着用。
「ファルージャであんなのは、今まで見たことが無い」と被害者の一人が語る。

News.com.au
http://www.news.com.au/
http://www.news.com.au/common/story_page/0,4057,8682761%255E401,00.html

27 killed in simultaneous raids
From correspondents in Fallujah, Iraq
February 15, 2004
AT least 27 people have been killed and about 30 others wounded in simultaneous assaults on a police station and civil defence headquarters in the troubled Iraqi town of Fallujah.

The dead included at least 23 Iraqi police and four attackers, officials said today.
Police and medics had earlier put the overall toll at 23.
"An unknown group of attackers launched an early morning assault against the headquarters of the Iraqi Civil Defence Corps and Iraqi police in Fallujah," a US military spokesman said.
"At least 23 Iraqi policemen were killed and approximately 30 others were wounded."
Earlier the head of the Fallujah hospital, Abdel Wahab al-Lusi had said: "We have received 23 bodies, including 14 policemen, five civilians and four attackers, as well as 35 wounded."
Police chief Hakim Jumaili said: "A group of some 15 attackers raided the police station with rocket-propelled grenades and automatic weapons and entered the building, freeing 22 prisoners."
He added that those freed were not security prisoners.
Police official Ahmed Ismail said the detainees "were involved in various crimes. but it is not the police's role to arrest resistance fighters and those who conduct such operations".
"This is the Americans' job."
Another police official, Raed Hussein, said two attackers killed were Lebanese and that another was captured after a gunbattle. The US military said one attacker was wounded in the violence.
The simultaneous raid on the ICDC and an ensuing fierce firefight resulted in no casualties in the ranks of the coalition-trained force, another security source said.
"Some 40 masked attackers riding in around 10 vehicles attacked our building at the same time they raided the adjacent police station," said ICDC official Dureib Salah Hamad.
"We returned fire and hit an Opel, killing two attackers and wounding another."
Teenager Issam Sultan witnessed the police station attack.
"I was at school near the police station when the shooting broke out," the 17-year-old said.
"The attackers fired from all directions. I tried to flee with my friend, but a man dressed in black and wearing a balaklava opened fire on us and wounded my friend in the leg."
Another resident said: "We couldn't tell from which direction the shots were being fired. We have never seen such a thing in Fallujah."
Today, police were trying to secure their bullet-riddled headquarters and the rest of the town while scores of armed civilians also took to the streets.
On the roof of the ICDC headquarters, men hiding their faces in keffiehs and carrying rocket-launchers were also keeping watch.
Just a few hours after the attacks, hundreds of locals were already taking part in the first funeral processions.
The fresh violence came two days after the head of US Central Command, General John Abizaid, escaped unharmed from an RPG attack in the same town, which lies 50kms west of Baghdadin in the so-called Sunni Triangle, the main hotbed of insurgency.
Insurgents had already targeted Iraqi forces twice this week, killing 55 people in a suicide bombing in front of a police station south of Baghdad on Tuesday.
Another 47 perished in a car-bomb attack at a Baghdad recruitment centre for the New Iraqi Army on Wednesday.
Agence France-Presse
---
---
投稿コメント全ログ
コメント即時配信
スレ建て依頼
削除コメント確認方法
---
★阿修羅♪ http://www.asyura2.com/  since 1995

 題名には必ず「阿修羅さんへ」と記述してください。
掲示板,MLを含むこのサイトすべての
一切の引用、転載、リンクを許可いたします。確認メールは不要です。
引用元リンクを表示してください。