投稿者 Sちゃん 日時 2004 年 5 月 12 日 05:20:35:4kC3WMVanvmFc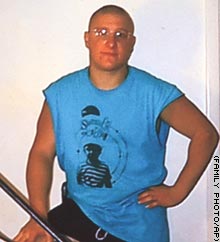 Nick Berg was due leave Iraq on March 30, his family said.

This image from the video shows the men who beheaded a man who says he's Nicholas Berg of Pennsylvania.
こちら生前の写真。
一言でいうなら、似てないんですが…
下のロイターの写真と比べて、太ってるし。
テレビで被害者の父がインタビューに答えていたけど、やけに早くないか?
CNN
http://www.cnn.com/
http://www.cnn.com/2004/WORLD/meast/05/11/iraq.main/index.html
Video on al Qaeda-linked Web site shows beheading
Victim identifies himself as American Nicholas Berg
Tuesday, May 11, 2004 Posted: 3:50 PM EDT (1950 GMT)
BAGHDAD, Iraq (CNN) -- An al Qaeda-linked Web site posted video Tuesday of a man who identified himself as an American and then was beheaded.
His captors said the United States refused to exchange him for prisoners in the Abu Ghraib prison.
"For the mothers and wives of American soldiers, we tell you that we offered the U.S. administration to exchange this hostage for some of the detainees in Abu Ghraib, and they refused," a hooded man standing behind the American says in Arabic.
"So we tell you that the dignity of the Muslim men and women in Abu Ghraib and others is not redeemed except by blood and souls. You will not receive anything from us but coffins after coffins, slaughtered in this way."
At the beginning of the tape, the victim describes himself as Nicholas Berg from Pennsylvania.
"My name is Nic Berg. My father's name is Michael. My mother's name is Suzanne. I have a brother and a sister -- David and Sarah," the man says.
"I live in West Chester, Pennsylvania, near Philadelphia."
He is then shown sitting in front of five hooded men. After the statement is read by one of the men, the victim is pushed to the floor and, amid his screams, his throat is cut. One of the captors then holds up the man's severed head.
"This shows the true nature of the enemies of freedom," White House spokesman Scott McClellan told reporters. "They have no regard for the lives of innocent men, women and children."
Berg's family told The Associated Press that they knew he had been decapitated but weren't aware of the details.
"I knew he was decapitated before," his father, Michael Berg, told the AP. "That manner is preferable to a long and torturous death. But I didn't want it to become public."
Suzanne Berg said her son was in Iraq as an independent businessman with a desire to help rebuild communication antennas.
"He had this idea that he could help rebuild the infrastructure," she told the AP.
Earlier in the day, the State Department identified the body of an American found Monday in Baghdad as that of Nicholas Berg of Pennsylvania.
Berg was not a soldier or a civilian employee of the Pentagon, the State Department said.
A senior State Department official also said that the decapitated body of an American had been found, but he could not confirm it was Berg.
The Web site said the killing had been carried out by Abu Musab al-Zarqawi, the leader of an Islamist terrorist group that has claimed responsibility for numerous attacks on coalition forces in Iraq.
The voice on the tape could not be verified as that of al-Zarqawi.
The video was discovered as a U.S. Senate committee heard testimony on the U.S. military investigation into abuse of Iraqi prisoners at Abu Ghraib. (Full story)
Earlier Tuesday, U.S. military officials said American soldiers have killed 13 Iraqi militia loyal to renegade Shiite Muslim cleric Muqtada al-Sadr and have detained 14 others in overnight fighting near Najaf.
Late Monday, members of al-Sadr's Mehdi Army attempted to ambush a U.S. convoy with small-arms fire. No American forces were injured in the incident.
The U.S. military began an offensive Sunday to retake control of parts of the city, reclaiming the governor's palace from al-Sadr's control.
Al-Sadr, who is wanted in connection with the killing of a rival cleric last year, launched an uprising against U.S. troops in April. Since then, coalition forces have cracked down on the cleric's strongholds while trying to avoid religious sites.
Al-Sadr is believed to be in Najaf, where his militia remains in control of much of the Shiite holy city. He travels to nearby Kufa to deliver weekly sermons Fridays.
Saddam handover may occur by June 30
Salem Chalabi, the man heading the Iraqi war crimes tribunal, said Tuesday the coalition is "considering" the possibility of handing over Saddam Hussein to Iraqis before the June 30 date for sovereignty.
But, he told CNN, he is not sure if it is ready to do that.
Earlier, Kuwaiti government sources told CNN they heard Chalabi say the United States would hand over Saddam to the Iraqis before they get sovereignty from the coalition. Wire services issued similar reports.
But Chalabi claimed he was misquoted and misunderstood. He said there is still a lot of work that defense attorneys for Saddam will have to do and it is likely he would not be the first of the suspects tried.
He said the tribunal would try to have his trial completed by the end of next year.
---
---
投稿コメント全ログ
コメント即時配信
スレ建て依頼
削除コメント確認方法
---
★阿修羅♪ http://www.asyura2.com/  since 1995

 題名には必ず「阿修羅さんへ」と記述してください。
掲示板,MLを含むこのサイトすべての
一切の引用、転載、リンクを許可いたします。確認メールは不要です。
引用元リンクを表示してください。