投稿者 Sちゃん 日時 2004 年 5 月 01 日 20:54:01:4kC3WMVanvmFc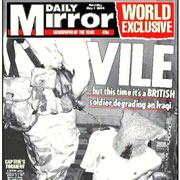 今度は英軍の蛮行が明らかに。
殴る蹴る、銃の台尻で打ち付けて歯を折る。小便をかける。等など。
skynews
http://www.sky.com/skynews/
http://www.sky.com/skynews/article/0,,30100-13075721,00.html
PAPER CLAIMS UK TORTURE

More disturbing pictures have emerged about the alleged torture of Iraqi prisoners - this time at the hands of British soldiers.
The Army has launched a full investigation.

Photographs in the Daily Mirror show an Iraqi being battered with rifle butts, threatened with execution, and urinated on by British troops.
During his eight-hour ordeal, the suspected thief had his jaw broken and teeth smashed, the Mirror reported.
The news follows the publication of images showing US troops humiliating and torturing Iraqi prisoners.
The Mirror told how the suspect was later driven away from the Army camp, still hooded, and thrown off the back of a moving wagon.
British soldiers from the Queens Lancashire Regiment handed the photos to the paper to show why Coalition forces were encountering such hostility.
They stressed that the abuse by UK forces has been carried out by rogue elements.
Officials immediately expressed their horror and ordered a full investigation.
Chief of the General Staff and head of the army General Sir Mike Jackson said such behaviour would be both unlawful and in contravention of the Army's high standards.
"If proven, the perpetrators are not fit to wear the Queen's uniform. They have besmirched the good name of the Army and its honour," he said.
The Defence Ministry later revealed that inquiries have been, or are being, carried out into a total of 10 allegations of torture or cruelty.
A spokesman said: "Five of those inquiries are still ongoing and in the other case we are not at a point where we know if there will be court martials."
He also confirmed that the findings of two investigations were currently being assessed by senior officials.


---
---
投稿コメント全ログ
コメント即時配信
スレ建て依頼
削除コメント確認方法
---
★阿修羅♪ http://www.asyura2.com/  since 1995

 題名には必ず「阿修羅さんへ」と記述してください。
掲示板,MLを含むこのサイトすべての
一切の引用、転載、リンクを許可いたします。確認メールは不要です。
引用元リンクを表示してください。