投稿者 転載バカボン 日時 2004 年 6 月 23 日 00:04:04:kkVgFyCLlyr/.

(回答先: UK approaches Iran over sailors(BBC)イギリス水兵8人イランに拘束される 投稿者 天地 日時 2004 年 6 月 22 日 15:53:57)

http://www.cnn.co.jp/world/CNN200406220011.html
英軍小型艇3隻、イランが拿捕 
2004.06.22
Web posted at: 15:38 JST

- CNN

テヘラン(CNN) イラン外務省は21日、同国海軍がイラン・イラク国境の川で英海軍の小型艇3隻を拿捕し、乗組員8人を拘束したと明らかにした。8人を事情聴取しているという。

イラン外務省報道官は、拿捕した3隻はイラク国境を流れるシャトエルアラブ川河口域のイラン領内にいたと話した。

英国防省は同日、国境付近で活動中だった小型哨戒艇3隻の乗組員計8人と、連絡が途絶えていると認めた。

同省報道官によると、英海軍は数週間前から、拿捕されたと同型の小型哨戒艇を使い、イラク警察などに対し国境警備の訓練を施していた。特に、川の流れを使った原油密輸の取締訓練に重点を置いていたという。

駐留米軍報道官のキミット准将は、拿捕された3隻は、国境警備訓練のため南部バスラから出発したと説明した。


関連情報
http://edition.cnn.com/2004/WORLD/meast/06/22/iran.uk/index.html

UK tells Iran: Free our sailors

Tuesday, June 22, 2004 Posted: 1415 GMT (2215 HKT)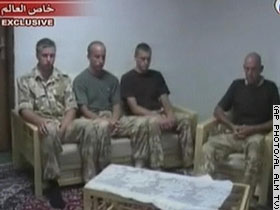 Iranian television showed pictures of the detainees.

YOUR E-MAIL ALERTS
Iran

Great Britain

or Create your own

Manage alerts | What is this?
(CNN) -- The UK government has summoned Iran's ambassador, demanding the release of eight navy sailors arrested in Iranian waters.
British Foreign Secretary Jack Straw on Tuesday also held talks with Iranian counterpart Kamal Kharrazi to try to defuse tensions, but reports said the sailors would be charged with illegally entering Iran's waters on three patrol boats.
The Foreign Office later said officials had asked Ambassador Morteza Sarmadi to explain why Iranian guards had arrested the sailors in the Shatt-al-Arab waterway.
"The ambassador was asked to explain why the eight are being held, for their release as soon as possible and for full consular access to them meanwhile," the Foreign Office said in a statement.
"He was asked for information on the reports that they will be prosecuted and told they were on a routine mission."
A British official said Sarmadi had offered no immediate clarification. "It was a one-way conversation, an opportunity for us to put our concerns across and for him to listen," he told Reuters.
British officials are working hard to prevent Monday's arrest escalating into a diplomatic crisis. Richard Dalton, the British ambassador in Tehran, is trying to resolve the situation with the Iranian Ministry of Foreign Affairs.
But Iran's state-run television reported that the men would be charged.
"They will be prosecuted for illegally entering Iranian territorial waters," the Arabic language Al-Alam television reported.
"The vessels were 1,000 meters inside Iranian territorial waters. The crew have also confessed to having entered Iranian waters," the broadcast said.
Iranian media also reported that the British boats had got too close to an oil jetty near the confluence of the Tigris and Euphrates rivers.
But a spokesman for the British Foreign Ministry said in London that they had not "been told definitively that these people are going to be prosecuted."
"We are in constant contact with the Iranians to get the matter resolved," the spokesman said.
Iranian officials said the boats entered their country's part of the Shatt-al-Arab waterway that divides Iran and Iraq and which has long been a source of tension between both Gulf neighbors.
On Monday, Iranian television showed pictures of the detainees and officials said the eight crew were being interrogated.
Waterway flashpoint
The incident is likely to place further strain on London and Tehran after Britain last week joined other key U.N. members in accusing Iran of being uncooperative with the U.N. nuclear watchdog, the International Atomic Energy Agency. (Full story)
Iranian TV reports said maps and weapons carried on the British vessels had been confiscated.



A Royal Navy patrol boat, similar to the vessels seized, in the Shatt-al-Arab waterway.
But Britain's defense ministry said the sailors had only their personal weapons and had been delivering a boat.
"We can confirm that eight Royal Navy personnel from the Royal Navy training team based in southern Iraq have been detained by the Iranian authorities while delivering a boat from Umm Qsar to Basra," a statement from the ministry said.
A ministry spokesman said the boats are the types used to train the Iraqi river patrol service in the waterway.
A statement from Iranian foreign ministry spokesman Hamid Reza Asefi said Iran's naval officers had instructions to arrest anyone who illegally crossed into the territory.
Iraq and Iran both share the waterway, with their respective borders meeting in the middle. The waterway is Iraq's main link with the Persian Gulf.
The 1980-1988 Iran-Iraq war broke out when then Iraqi leader Saddam Hussein claimed the entire waterway.
---
---
投稿コメント全ログ
コメント即時配信
スレ建て依頼
削除コメント確認方法
---
★阿修羅♪ http://www.asyura2.com/  since 1995

 題名には必ず「阿修羅さんへ」と記述してください。
掲示板,MLを含むこのサイトすべての
一切の引用、転載、リンクを許可いたします。確認メールは不要です。
引用元リンクを表示してください。