投稿者 Sちゃん 日時 2004 年 5 月 31 日 01:32:13:4kC3WMVanvmFc

(回答先: 【こちらの報道とだいぶ違うような・・・】部隊突入、人質50人を救出 武装犯逮捕、サウジ【共同通信】 投稿者 転載バカボン 日時 2004 年 5 月 30 日 22:06:27)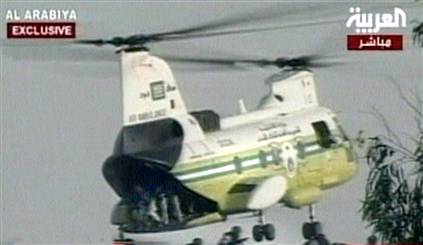 こちらはNBCから。
救出された人質の一人がAFPに語ったところによると、9人が咽喉を切られて死亡しているとのこと。
死亡者はトータルで22人になるとのこと。
死傷者の数は不明瞭で、サウジのアブドラ皇太子は、約10人のサウジおよび外国人が死んだと土曜日に告げた。
しかし、治安当局を引用する新聞アル・リヤードは、7人のサウジの警備員を含む16人の死者がいると告げた。
これには(咽喉を切られた)9人の人質を含んでいない。
また英国人の遺体が車で引き摺られたとのこと。

msNBC
http://www.msnbc.msn.com/
http://www.msnbc.msn.com/id/5089558/
Saudi Arabia hostage standoff ends
9 captives reported dead; overall toll at 22, including one American

MSNBC TV
This image from al-Arabiya TV shows a helicopter unloading Saudi security forces onto the roof of a building where militants were holding hostages on Sunday.
Updated: 11:46 a.m. ET May 30, 2004KHOBAR, Saudi Arabia - Saudi commandos stormed an expatriate resort early Sunday to free up to 60 foreign hostages seized by Islamic militant gunmen who had attacked oil industry compounds on Saturday. A Saudi official says a total of 22 people died in the attacks, including one American. Reuters reported that the bodies of nine hostages were discovered when the other captives were freed.
An al-Qaida-linked group that claimed responsibility for the shooting attack had said all the 45-60 hostages were dead.
A man who said he was among the freed hostages told Agence France Presse that the militants had cut the throats of nine hostages. "The nine had their throats cut when they tried to escape at night by the stairs," said Nijar Hijazin, a Jordanian computer engineer, according to AFP.
At least one American was killed in the 24-hour-long attack and standoff in this Persian Gulf city, 250 miles northeast of Riyhad in the heart of the Saudi oil industry.
The number of militants involved in the attack was unclear. Earlier reports had indicated as many as seven men were involved. Reuters reported that three had escaped.
The militants, wearing military-style dress, opened fire inside two compounds housing international oil industry firms at around 7:30 a.m. Saturday. They then fled up the street to the Oasis Residential Resort, an upscale complex with shops, restaurants, a private Gulf cove and an ice-skating rink.
Saudis storm complex
When the hostage crisis started Saturday, Saudi security forces had stormed the walled housing compound and surrounded the attackers on the sixth floor of a high-rise building. One attempt during the night to reach the hostages was abandoned after booby traps were discovered, forces said.
In a dramatic rescue just after sunrise, three security forces helicopters arrived and dropped off commandos. Gunfire, heard sporadically overnight, rang out again. Within a few hours, the standoff was over.
Saudi forces said they had arrested a leader in the attack. "It has ended. One has been arrested and two are in the process of being arrested—they are surrounded," said a Saudi official, who declined to be named.
The commandos were still searching the grounds Sunday afternoon for militants and weapons, according to residents who said they had not been allowed to return home.
Web site claims al-Qaida link for attack
As the initial shooting rampage was under way, a statement posted on Islamic Web sites claimed the attack in the name of the Al-Quds (Jerusalem) Brigade and was signed the "al-Qaida in the Arab Peninsula." It said the attacks targeted U.S. companies and that a number of "crusaders" had been killed.
The same group posted a statement Sunday saying all hostages had been killed. "The holy warriors didn't leave any of the hostages alive. All those infidels and Crusaders who were in their hands were liquidated," it said.
It was not possible to verify the authenticity of the statement, posted on an Islamic Web site, which said one of the gunmen was killed but claimed the others had escaped.
Osama bin Laden, blamed for past terror attacks in Saudi Arabia, has vowed to destabilize the oil industry and undermine the kingdom for its close ties to the United States.
"The terrorists' goal is to disrupt the Saudi economy and destabilize our country. But they will not succeed," Saudi ambassador Prince Bandar bin Sultan said in a statement released in Washington. "With every desperate act of violence, our effort and resolve to destroy the terrorists only grows."
Number of casualties is unclear
There were varying reports on casualties in the attack.
Saudi Crown Prince Abdullah said Saturday that about 10 Saudis and foreigners were killed, but the newspaper Al-Riyadh, quoting security officials, said there were 16 dead, including seven Saudi security agents, but not including the nine hostages.
An American man who worked for an oil company, a British oil executive, a 10-year-old Egyptian boy, an Italian cook and three Filipinos were among those confirmed killed. A Swedish citizen and Saudi guards were reportedly killed.
Several Saudi newspapers reported Sunday that the attackers threw at least one body from the Oasis building where they were holed up and had mutilated some of the bodies of those killed.
Reporters were kept back from the compound, but a bus carrying Saudi troops and other police and military vehicles could be seen pulling out. As forces withdrew, a Saudi soldier flashed a V-for-victory sign from the window of his gun-mounted vehicle. Soon after, six ambulances lined up to enter the compound.
The Arab News, quoting witnesses, said the attackers dragged the body of an unidentified victim behind their car along a highway. Gunmen who attacked an oil contractor's office in western Saudi Arabia earlier this month dragged the body of an American victim from the bumper of their car.
Seeking out non-Muslims
When they arrived, the militants indicated they were trying to separate Muslims from non-Muslims. Lebanon's ambassador said five Lebanese hostages were freed, and Oasis residents and employees said militants asked them if they were Muslim. Militants have been criticized in the Arab world for previous attacks in which Saudis and other Arabs were killed.
Abu Hashem, a 45-year-old Iraqi-American engineer, said four gunmen—lightly bearded Saudi men who looked 18 to 25 years old—asked for his residency papers.
"They said, 'You are American,' and I told them I am an American Muslim. They said, 'We do not kill Muslims,"' They then apologized for breaking into his home.
Another resident, Abdul Salam al-Hakawati, a 38-year-old Lebanese corporate financial officer, said gunmen rummaging around his family residence said, "This is a Muslim house"—apparently seeing the framed Quranic verses on his walls.
He said a man in his early 20s, carrying a machine gun and wearing an ammunition belt, told him: "We only want to hurt Westerners and Americans. Can you tell us where we can find them here?"
Oil companies targeted
One of the targeted oil industry compounds contains offices and apartments for the Arab Petroleum Investment Corporation, or Apicorp, and the other—the Petroleum Center building—houses various international firms.
The Egyptian boy who was killed was the son of an Apicorp employee, said Mahmoud Ouf, an Egyptian consular officer in Riyadh. Apicorp, in a brief statement published in the Saudi newspaper Al-Jazirah on Sunday, said three of its employees were among the dead. Apicorp is the investment arm of the Organization of Arab Petroleum Countries.
Offices at the Petroleum Center include a joint venture among Royal Dutch/Shell Group, Total SA and Saudi Aramco; Lukoil Holdings of Russia; and China Petroleum & Chemical Corp., or Sinopec. All of those employees were safe, said Shell spokesman Simon Buerk and a Saudi oil industry official, Yahya Shinawi, though it wasn't clear whether other companies had accounted for all their employees.
Saudi Arabia relies heavily on 6 million expatriate workers to run its oil industry and other sectors. The kingdom produces about 8 million barrels of oil a day.
The Arab satellite station Al-Arabiya reported the Saudi oil minister met with oil executives to assure them that the attack would not affect oil supplies. He planned to meet ambassadors on Sunday for the same purpose, the station said without attribution.
Michael Rothman, chief energy strategist at Merrill Lynch in New York, said "a limited psychological reaction" might occur in oil markets but that the Khobar attack would not affect supply.
Saudi Arabia launched a high-profile crackdown on terrorists after attacks on Riyadh housing compounds in 2003. The most recent attack targeted the offices of Houston, Texas-based ABB Lummus Global Inc. in the western city of Yanbu on May 1, killing six Westerners and a Saudi. Many expatriates left after the Yanbu attack.
---
---
最新投稿・コメント全文リスト
コメント投稿はメルマガで即時配信
スレ建て依頼スレ
---
★阿修羅♪ http://www.asyura2.com/  since 1995

 題名には必ず「阿修羅さんへ」と記述してください。
掲示板,MLを含むこのサイトすべての
一切の引用、転載、リンクを許可いたします。確認メールは不要です。
引用元リンクを表示してください。