投稿者 Sちゃん 日時 2004 年 6 月 19 日 04:47:07:4kC3WMVanvmFc

(回答先: また首切り。またアルカイダ。ロッキード・マーチンに雇われたヘリのエンジニア。【BBC】 投稿者 Sちゃん 日時 2004 年 6 月 19 日 04:38:24)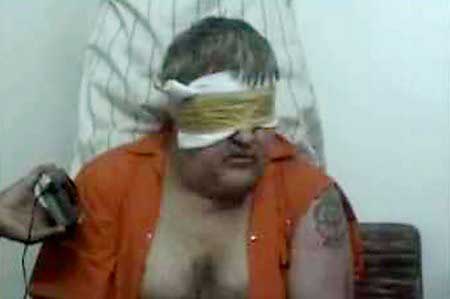 This image posted on an Islamic website on June 15, 2004 shows blindfolded U.S. hostage Paul Johnson being held in Saudi Arabia. Al Qaeda militants beheaded an American engineer they had held hostage since last week, Al Arabiya television reported. The network was quoting its correspondent in Saudi Arabia and gave no further details. Photo by Reuters (Handout)

こちらはロイターから。
目隠しと椅子です。
それはそれとして、この刺青は何のマークだろう。

Reuters.com
http://www.reuters.com/
http://www.reuters.com/newsArticle.jhtml;jsessionid=NPIPJ2KD31JBWCRBAELCFEY?type=topNews&storyID=5459997
Al Qaeda Beheads U.S. Hostage in Saudi Arabia
Fri Jun 18, 2004 02:32 PM ET
By Ghaida Ghantous
RIYADH (Reuters) - Al Qaeda militants beheaded U.S. engineer Paul Marshall Johnson, who had been held hostage since last week, after the Saudi government failed to meet demands to free jailed militants, an Islamist Web site said Friday.
"As we promised, the mujahideen, we have beheaded the American hostage Paul Marshall after the deadline that the mujahideen gave to the tyrannical Saudi government passed," a statement signed by the Organization of al Qaeda in the Arabian Peninsula said on their Web site Sawt al-Jihad.
The Web site showed three pictures of what appeared to be Johnson's severed head -- one showed the bloodied head propped up on the back of a body in an orange jumpsuit with a knife leaning on the face.
A second picture showed a hand lifting up the head and a third image showed the body and the severed head from a different angle.
Johnson, 49, was an employee of defense contractor Lockheed Martin, which manufactures U.S. helicopter gunships. The statement said al Qaeda had killed him because of "what Muslims have suffered from American Apache planes and their rockets."
"This act is to heal the hearts of believers in Palestine, Afghanistan, Iraq and the Arabian Peninsula.
"This is so that he can taste what Muslims have suffered from Apache planes and their rockets. The slain American parasite was working on their maintenance and developing their systems in Saudi Arabia," the statement said.
"We, by the will of God, will continue to fight the enemies of God...This act is revenge against them and will be a lesson so that they can be sure of the fate of those who come to our country."
The statement warned other Americans would meet a similar fate if they went to Saudi Arabia.
"GOD'S VOICE"
Osama bin Laden's network had set a Friday deadline for the Saudi government to release jailed militants but officials had said the kingdom would not give in to the group's demands.
"This is God's voice rising in anger...at the treatment of Muslims in Abu Ghraib, al-Hair (prison), Guantanamo, Ruwais (Saudi prison) and others," the statement added, referring to U.S. military prisons Abu Ghraib, Iraq, and Guantanamo Bay, Cuba.
The U.S. embassy in Riyadh declined to comment.
Militant attacks have rocked the world's biggest oil exporter for more than a year but Johnson's kidnapping was the first of its kind in Saudi Arabia and raised concerns over a new tactic by militants.
A senior Saudi official in Washington said a team of about 20 FBI agents specialising in hostage rescue and negotiations had worked alongside the Saudis to try to secure Johnson's release.
The official said that for the past two days, more than 15,000 Saudi officers and security forces had been combing Riyadh for Johnson, going door-to-door in some neighborhoods considered hotbeds for al Qaeda militants and sympathizers.
Prominent Saudi cleric Sheikh Saleh bin Abdullah al-Humaid, in a sermon at Muslim Friday prayers in Mecca's Grand Mosque, denounced hostage-taking and murder as grave sins under Islam, the most senior Saudi cleric to do so.
The State Department warned U.S. citizens in Saudi Arabia Thursday of serious threats to their safety and repeated advice strongly urging them to leave the kingdom.
Johnson's kidnapping, which follows a spate of suicide bombings and shootings in the past six weeks, has raised the stakes in al Qaeda's war against the Saudi government.
Saudi-born Osama bin Laden's al Qaeda, blamed for the Sept. 11, 2001, attacks on U.S. cities, has vowed 2004 would be "bloody and miserable" for the kingdom, a key U.S. ally.
Saudi Arabia, birthplace of Islam, has arrested or killed scores of militants in a crackdown on al Qaeda. But Riyadh has so far failed to reassure tens of thousands of Westerners on how it plans to protect them or thwart further attacks.
© Reuters 2004. All Rights Reserved.
---
---
投稿コメント全ログ
コメント即時配信
スレ建て依頼
削除コメント確認方法
---
★阿修羅♪ http://www.asyura2.com/  since 1995

 題名には必ず「阿修羅さんへ」と記述してください。
掲示板,MLを含むこのサイトすべての
一切の引用、転載、リンクを許可いたします。確認メールは不要です。
引用元リンクを表示してください。