投稿者 World Watcher 日時 2005 年 6 月 12 日 11:39:18: DdDUJ9jrxQIPs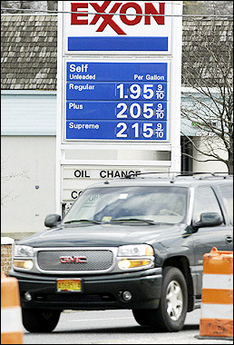 ブッシュが京都議定書を拒否した背景には国際石油メジャー、エクソン・モービルからの圧力があったことを英国のガーディアン紙が報じた。
事の発端は米国務省から入手した公式文書からで、ブッシュ政権と国際石油メジャーのエクソン・モービルとの癒着がことさらに描かれているらしい。
ちなみにこの記事をガーディアンが報じた直後にジョージ・ブッシュはブレアとの米英会談で地球温暖化解決に向けて意気揚々と語っていた(笑)
▼British newspaper claims Exxon leaned on Bush to shun Kyoto treaty
LONDON (AFP) - A newspaper claimed to have seen official papers showing that pressure from oil and gas giant Exxon Mobil partly prompted US President George W. Bush to reject the Kyoto protocol on climate change.
The revelation came as Bush said global warming was a "serious long term" problem and the United States was leading research into finding solutions, following a meeting in Washington with British Prime Minister Tony Blair.
Citing documents from the US State Department, the London-based Guardian newspaper said the administration thanked Exxon executives for the company's "active involvement" in helping to shape climate change policy, and also sought its advice on what such policies the company might find acceptable.
This claim was found in briefing papers given before meetings to the US undersecretary of state, Paula Dobriansky, from 2001 and 2004, the daily said.
It also reported that other documents suggested Dobriansky should ask Exxon executives and other anti-Kyoto business groups about potential alternatives to the landmark Kyoto treaty.
"Until now Exxon has publicly maintained that it had no involvement in the US government's rejection of Kyoto," the Guardian said.
"But the documents, obtained by Greenpeace under US freedom of information legislation, suggest this is not the case," it said.
Reflecting a consensus between the company and the US administration on the need for more global warming science and the unacceptable costs of Kyoto, the papers state that Exxon believes that joining the treaty "would be unjustifiably drastic and premature", the Guardian reported.
The papers emerged as Blair wrapped up a lightning US trip in a bid to drum up support for a two-pronged initiative at a Group of Eight (G8) summit in Scotland next month to tackle climate change and poverty in Africa.
The United States has been widely criticised for withdrawing from a commitment to ratify the Kyoto protocol on climate change, which set targets for reducing pollution that causes global warming.
http://fullcoverage.yahoo.com/s/afp/20050607/sc_afp/usbritaing8climate_050607234816
---
---
最新投稿・コメント全文リスト
コメント投稿はメルマガで即時配信
スレ建て依頼スレ
---
★阿修羅♪ http://www.asyura2.com/  since 1995

 題名には必ず「阿修羅さんへ」と記述してください。
掲示板,MLを含むこのサイトすべての
一切の引用、転載、リンクを許可いたします。確認メールは不要です。
引用元リンクを表示してください。