投稿者 木田貴常 日時 2005 年 7 月 08 日 01:20:03: RlhpPT16qKgB2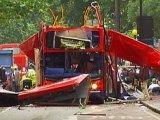 All bus services in central London have been suspended, said Transport for London
London blasts: at least 33 are dead
4.41PM, Thu Jul 7 2005
http://www.itv.com/news/13569.html

Police said at least 33 people have died in a bombing attack on four tube trains and buses in London during the morning rush-hour.
The hotline for more information on casualties is 0870 156 6344.
At 8.51am, a blast occurred on a Tube train between Liverpool St and Aldgate East stations, 100 yards from Liverpool St. Seven people are reported to have died.
At 8.56am, an explosion ripped through a carriage on a Piccadilly Line train between King's Cross and Russell Square. Police said 21 died.
At 9.17am, five died on a Circle Line train at Edgware Road after a blast in one train which impacted on another passing it.
At 9.47am, a route 30 (Hackney-Marble Arch) double-decker bus had its roof blown off in Woburn Square. This incident also resulted in deaths, although the number is not yet confirmed.
Up to 1,000 people - including walking wounded - were injured, with 45 seriously hurt. The range of injuries included burns, amputations, chest and blast injuries, fractured limbs and smoke inhalation. A number of casualties have lost limbs. Others were taken to hospital covered in blood.
Police said they did not have any warning or intelligence to indicate the incident was about to happen. They are treating it as a terrorist incident.
They have also denied rumours that a suicide bomber was shot dead at Canary Wharf this morning, with a senior officer saying that as far as he knew, no such action took place.
From Aldgate, the injured were taken to the Royal London Hospital nearby, some ferried there on double-decker London buses.
A passenger on the train which exploded at Edgware Road said he saw several bodies in the wreckage. Police have said that apart from the five confirmed dead in this incident, four are critically injured and another eight seriously so.
The injured were taken to St Mary's Hospital, Paddington, and the walking wounded received first aid at the Hilton Hotel.
Metropolitan Police Commissioner Sir Ian Blair said people in London should not travel, and appealed for 999 to be used only when lives are at risk.
He said no warning was given before the blasts and that there is evidence of explosives at least one of the explosion sites. Police said a controlled explosion will be carried out at Edgware Road station.
Home Secretary Charles Clarke said he did not know who was behind the blasts. Reports saying a group calling itself 'The Secret Organisation of Al-Qaeda Jihad in Europe' has claimed on a website that it is to blame. Intelligence experts are checking the claim out.
Buckingham Palace has been sealed off by armed police.

---
---
最新投稿・コメント全文リスト
コメント投稿はメルマガで即時配信
スレ建て依頼スレ
---
★阿修羅♪ http://www.asyura2.com/  since 1995

 題名には必ず「阿修羅さんへ」と記述してください。
掲示板,MLを含むこのサイトすべての
一切の引用、転載、リンクを許可いたします。確認メールは不要です。
引用元リンクを表示してください。