投稿者 Sun Shine 日時 2007 年 11 月 22 日 18:27:17: edtzBi/ieTlqA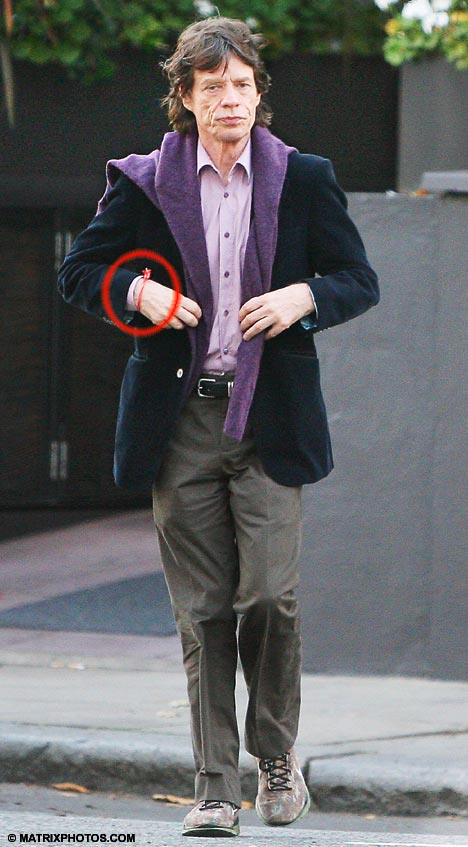 マドンナ、ビリー・ピパー、パリス・ヒルトン、ビクトリア・ベッカムなどが信仰している事で有名な「カバラ」(ユダヤ教の教えのひとつ)。この信者にミック・ジャガーもなったのではないかと思わせる写真が「Daily Mail」に登場した。彼が腕につけている赤い腕輪は、「邪悪な霊をはねのける」と「カバラ」ではいわれているもの。
ミックはローマン・カソリックの家庭に生まれ、今まで取り立てて特定の宗教に加入しているということは言われていなかったが、とうとう「カバラ」の信者になったのか・・・?
http://www.dailymail.co.uk/pages/live/articles/showbiz/showbiznews.html?in_article_id=495301&in_page_id=1773
Has Mick Jagger joined Madonna's religion? Rocker spotted wearing a trendy Kabbalah string
By RICHARD SIMPSON - More by this author »
Last updated at 22:00pm on 21st November 2007

Its promises of spiritual enlightenment and help with building a better life have already won over the first lady of pop.
Now the esoteric cult of Kabbalah can add the name of Sir Mick Jagger to that of Madonna on its list of followers.
The Rolling Stones star was spotted sporting a Kabbalah bracelet on his way to a meeting in London.
The string charm, which supposedly protects against the "evil eye", has already been seen on the wrists of Madonna, Billie Piper, Paris Hilton and Victoria Beckham.
Kabbalah is a Jewish tradition based on medieval interpretations of the Old Testament.
The website of the London Kabbalah Centre says its purpose is "to make accessible the ancient wisdom and tools of Kabbalah in order to illuminate minds and hearts".
Another centre, in Jerusalem, promises to show followers how to "remove every form of chaos, pain and suffering" and "ultimately to erase even death itself".
Spiritual: Sir Mick's girlfriend L'Wren Scott could be behind his decision to wear the Kabbalah bracelet
Devotees of the not-for-profit organisation are also advised to drink blessed water, which can cost nearly £4 a bottle.
Kabbalah has its detractors, among them some rabbis who have denounced it as crackpot mysticism.
Sir Mick, 64, seems to have shown more interest in the spiritual side of life after getting together with L'Wren Scott.
Last month, the couple stayed at the 347-room Indian palace home of the Maharaja of Jodhpur and collected mystical trinkets for their £10million Chelsea mansion.
Last year, when the Stones were on tour in South America, Sir Mick took time out to have his "auras cleansed" in a smoke ceremony conducted by a roadside shaman.
His former wife, Jerry Hall, had turned to Kabbalah herself after their very public split. That came on the back of his fling with Brazilian model Luciana Morad, who had Sir Mick's love child eight years ago.
Madonna and Billie Piper with their bracelets
Sir Mick, who comes from a Roman Catholic family, is not known for strong religious beliefs.
He married Miss Hall at a Balinese Hindu wedding in 1990, which he later said was void in order to make their divorce settlement less costly.
Miss Scott, a 40-year-old model who is widely seen as his soulmate, was raised by Mormon adoptive parents in Utah.
When Sir Mick was photographed with the bracelet, he was on his way to meet Simon Fuller, the music mogul who launched the Spice Girls.
Fuller is worth £450million and Sir Mick a hardly less modest £230million


フォローアップ:
---
投稿コメント全ログ
コメント即時配信
スレ建て依頼
削除コメント確認方法
---
★阿修羅♪ http://www.asyura2.com/  since 1995

 題名には必ず「阿修羅さんへ」と記述してください。
掲示板,MLを含むこのサイトすべての
一切の引用、転載、リンクを許可いたします。確認メールは不要です。
引用元リンクを表示してください。