投稿者 Sun Shine 日時 2007 年 7 月 10 日 18:58:18: edtzBi/ieTlqA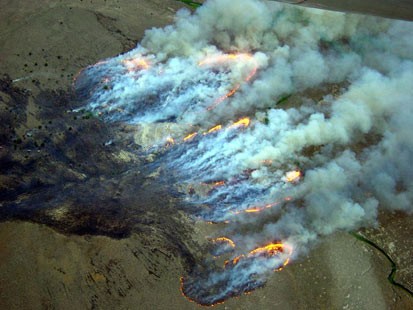 7月9日付、「USA Today」より。
連日猛暑が続いているアメリカ西部では、6日から9日にかけて12州、41ヵ所(大きな火事だけ数えた場合の数字)で山火事が相次いで発生。何千人もの消防士が消火作業にあたっており、現在も消火作業は続けられている。
原因は、極端に乾燥した土地に、相次いで雷雨が発生。雨が空から大地に届く前に、大地が乾燥しているために蒸発。雷だけが大地を襲い、それが乾燥した草木に発火し、山火事となったことによるものだとのこと。
夏になると山火事が起こることは珍しいことではないが、今回のように12州にもまたがって、41ヵ所での大規模な山火事というのは、近年では極めて珍しいことである(ABCニュースではここ30年間で初めてのことといっていた)。
・カリフォルニア州:1,100人以上の消防士が消火作業にあたり、37,000エーカーが焼けた。現在のところ55%が消火した。
(後略

http://www.usatoday.com/weather/wildfires/2007-07-09-wildfires-rw_N.htm
Lightning strikes, dry ground spark fires in West
By Patrick O'Driscoll
DENVER — Another wave of "dry lightning," the leading cause of summer wildfires in the West, threatens to ignite more blazes this week across the parched region.
Thousands of firefighters battled 41 major fires Monday in a dozen Western states. All but a handful were triggered late last week when thunderstorms raked brush and forest lands from Arizona to South Dakota with too many lightning bolts and too little rain.
The number of large wildfires at one time is not unusual for the summer. What was unusual was the swiftness with which the fires grew. The widespread dry thunderstorms were to blame.
The worst is the 468-square-mile Milford Flat blaze in southern Utah, the largest wildfire in the state's history.
"The fire is erratic, and the winds are blowing. It's still moving," said Susan Marzec of the federal Bureau of Land Management.
The fire was started by lightning Friday. Still uncontained Monday, the fire has charred brush and woods along Interstate 15 about 120 miles south of Salt Lake City.
On Saturday, two California motorcyclists were killed on I-15 after smoke obscured their way, and they were hit from behind. They were Utah's fourth and fifth wildfire fatalities in 10 days.
Three other people were killed in a separate wildfire in northeastern Utah.
Fire managers deployed 250 firefighters over the weekend and awaited hundreds more Monday. "Before we're done, (firefighters) can be even into the thousands," Marzec said.
Hot spots elsewhere include:
•California. More than 1,100 firefighters worked to corral two fires on the east slope of the Sierra Nevada range. The lightning-caused blazes have scorched 37,000 acres. Four crewmembers were injured. The fire was 55% contained Monday, and Forest Service spokeswoman Nancy Upham says it may be fully contained by Wednesday. A forecast for dry lightning today is worrisome, she says.
•South Dakota. In the Black Hills, light rain Monday helped dampen a third lightning blaze that destroyed 27 houses, killed a homeowner and injured two firefighters. Crews hope to contain the 7,000-acre fire by Thursday.
•Nevada. Firefighters labored in triple-digit heat on range fires that blackened 115,000 acres and threatened Winnemucca, about 170 miles northeast of Reno.
The heat that helped set up the western wildfires has spread east. New York City opened 290 cooling centers Monday after the temperature hit 90 degrees in Central Park. High temperatures were forecast in the 90s through Wednesday. The state of Virginia issued a hazardous weather alert.
The heat worsens fire danger in the West by more quickly drying out grasses and ground-level "fuels" that carry fires into the trees.
Lightning triggers about 70% of wildfires in the West, says Rick Ochoa, fire weather program manager at the National Interagency Fire Center in Boise. Last weekend's flare-up was the work of widespread thunderstorms over parched ground, tinder-dry grasses and very low humidity in the air.
Ochoa says the same conditions are in place for another round of dry lightning this week. Potential hotspots include the eastern side of Oregon's Cascade Range, the coastal mountains of Southern California and more inland states, including Idaho, Montana and Wyoming.
The current outbreak could have been worse, says wildland fire analyst Tom Wordell of the fire center. He notes most of the large fires are burning in lower-elevation brushlands, not thick forest stands high in the mountains.
"Had the fuels at upper-elevation areas been ready for ignition and spread, we would have had a much worse situation," he says. "Unfortunately, we've got another bad week in front of us, setting ourselves up for another lightning episode."
Contributing: The Associated Press •More heat on way, 14A
フォローアップ:
---
投稿コメント全ログ
コメント即時配信
スレ建て依頼
削除コメント確認方法
---
★阿修羅♪ http://www.asyura2.com/  since 1995

 題名には必ず「阿修羅さんへ」と記述してください。
掲示板,MLを含むこのサイトすべての
一切の引用、転載、リンクを許可いたします。確認メールは不要です。
引用元リンクを表示してください。