投稿者 はちまき伍長 日時 2008 年 12 月 23 日 06:36:33: Zpc9bbdVkJn3c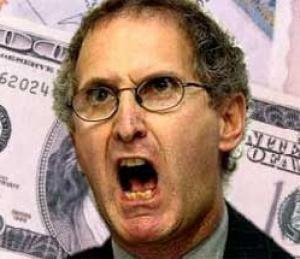 ノーマン・フィンケルシュタインの『ホロコースト産業』にも登場した、スイスの銀行恐喝訴訟で名を上げた弁護士エドワード・フェイガンが「ナチスによって美術品等を略奪された被害者の会」という架空の団体をでっち上げてヨーロッパの銀行や企業などを訴えていたそうです。
法廷でインチキが露見したために罰金三十五万ドルを課されていたのですが、ほとんど払っていないというのでニューヨーク州の弁護士資格を剥奪されたとのことです。ニューヨーク州に先立ってニュージャージー州でも資格が剥奪されていました。
AP通信が取材しようとしても電話はつながらず連絡が取れないそうです。
http://m.lohud.com/detail.jsp?key=180882&rc=lu&full=1
Lawyer for Holocaust victims disbarred
Samuel Maull
The Associated Press
December 11, 2008 12:00 PM
NEW YORK (AP) - A lawyer who became famous for working to win compensation for Holocaust victims has been stripped of his license to practice law in New York.
The state Supreme Court's Appellate Division in Manhattan said today that Edward D. Fagan was disbarred because he failed to pay more than $350,000 in fines and costs ordered by a federal judge, and because he had previous court sanctions.
The 55-year-old had practiced law in New York since 1988. He represented Nazi-era victims for more than a decade, winning hundreds of millions of dollars in settlements for them from European institutions.
The decision followed a separate February recommendation by the New Jersey Supreme Court's Disciplinary Committee that Fagan be disbarred in that state. He was accused of misusing hundreds of thousands of dollars of Holocaust survivors' funds, but his lawyer at the time said he was innocent.

The New York appeals court said its charges against the Harlingen, Texas, native stemmed from a 2004 federal lawsuit Fagan filed in Manhattan for a non-existent group called the Association of Holocaust Victims for Restitution of Artwork & Masterpieces - AHVRAM.
The group had sued Bank Austria Creditanstalt AG and other European corporate, governmental and financial institutions for $6.8 billion, alleging thefts of artworks and other property during World War II's Holocaust.
U.S. District Court Judge Shirley Wohl Kram dismissed the lawsuit on Aug. 19, 2005, saying it failed to state any basis for federal court jurisdiction over the case. She also said the lawsuit was "frivolous" and filed "in bad faith."

Besides noting "that the plaintiff organization AHVRAM did not exist," the Appellate Division wrote, Kram granted the bank's motion to penalize Fagan.
She remarked on Fagan's "lack of preparation and professionalism, his 'glaringly inadequate filings,' and the fact that he deceived the court" about a class action settlement with the Austrian bank. Kram said he was trying to "circumvent" the Austrian bank settlement so he could press on with his lawsuit.
Kram ordered Fagan to pay more than $350,000 in fines and litigation costs.
The Appellate Division said Fagan had paid virtually none of the money. The court said his failure to pay plus his history of several previous court sanctions led to its finding that he should be disbarred.

Fagan represented himself in the disciplinary hearing.
Several office telephone numbers listed for Fagan were disconnected or were not answered. No home telephone number for him could be found.  
フォローアップ:
---
投稿コメント全ログ
コメント即時配信
スレ建て依頼
削除コメント確認方法
---
★阿修羅♪ http://www.asyura2.com/  since 1995

 題名には必ず「阿修羅さんへ」と記述してください。
掲示板,MLを含むこのサイトすべての
一切の引用、転載、リンクを許可いたします。確認メールは不要です。
引用元リンクを表示してください。