http://ameblo.jp/warm-heart/entry-10101985892.html から転載。
2008-06-01 08:36:16
gataro-cloneの投稿

米軍準機関紙「星条旗」が米軍向け有料道路無料パス問題(井上哲士参院議員質問)を取り上げる。
テーマ:アメリカと日本の関係とは

日本共産党の井上哲士参院議員が4月17日の参院外交防衛委員会で、日本政府が米軍に提供する有料道路無料パスが「公務」以外に、観光ツアーなどの私用目的にも使われている問題を取り上げて批判した。
この質問に関する記事が、米軍準機関紙「星条旗」(5月31日付)("Stars and Stripes")に掲載されている。
「しんぶん赤旗」(6月1日付)はその要旨を次のように報じている。
==============================================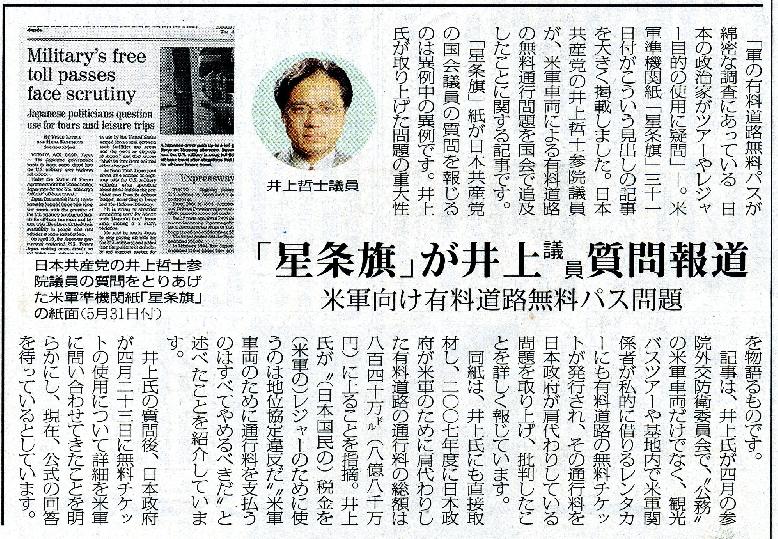 ==============================================
"Stars and Stripes"の該当記事(電子版)はこちら。 ⇒
http://www.stripes.com/article.asp?section=104&article=62505&archive=true

Japanese politicians question use for tours and leisure trips
By Vince Little, and Hana Kusumoto, Stars and Stripes
Pacific edition, Saturday, May 31, 2008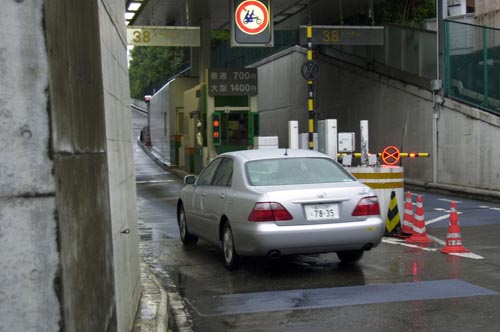 T.D. Flack / S&S
A Japanese driver pulls up to a toll gate to enter the Shuto Expressway in Tokyo on Thursday afternoon. Japanese government officials want to know how the U.S. military is using toll tickets provided by Japan for official off-base travel after Japan Communist Party representative Satoshi Inoue raised the issue of the U.S. military using the toll tickets for off-base leisure travel.

YOKOTA AIR BASE, Japan — The Japanese government wants to learn more about how the U.S. military uses highway toll tickets.
Under the Status of Forces Agreement with the United States, Japan pays for the U.S. military's "official" off-base travel.
Japan Communist Party representative Satoshi Inoue took issue last month with the practice of the U.S. military issuing toll tickets for off-base bus tours and leisure trips. He also criticized their availability to people who rent vehicles at some installations.
On April 23, the Japanese government contacted U.S. Forces Japan seeking more details on toll ticket use, defense and foreign ministry officials said, and is awaiting a formal response.
"All we can say on the matter is that USFJ is in discussions with the Government of Japan on this and a variety of other Status of Forces Agreement issues," USFJ spokesman Marine Corps Master Sgt. Terence Peck wrote in an e-mail to Stars and Stripes on Wednesday.
The second section of Article 5 in the SOFA states that U.S. government-owned vehicles and members of the U.S. military, Department of Defense civilians and their dependents "shall be accorded access to and movement between facilities and areas in use by the United States armed forces and between such facilities and areas and the ports or airports of Japan," and that access "shall be free from toll and other charges."
In fiscal 2007, Japan paid about $8.4 million in highway tolls for U.S. military vehicles after spending about $8.63 million the previous year from its defense budget, according to Inoue and the Defense Ministry.
"It is wrong to shoulder something used for leisure with [Japan's] tax," Inoue said, calling it a SOFA violation.
He said he wants Japan to stop paying all tolls for the U.S. military, and added that the public will definitely not support paying for the leisure travel.
U.S. military personnel using the toll tickets must fill out information blocks for vehicle type, license plate number, driver's name, location and date.
The Japan Highway Public Cooperation then claims the amount to the defense ministry, which pays the toll, according to Inoue. "There is no place to claim the purpose [of the trip]," Inoue said, and toll booth workers can't differentiate between official and unofficial use of military vehicles.
Inoue raised the issue April 19 at an upper house committee meeting on foreign affairs and defense. Inoue said a Japan Defense Ministry official told him that the use of toll tickets for U.S. tour buses isn't a problem because the outings are "official" and provided to boost troops' welfare and morale. A Defense Ministry spokesman contacted Thursday declined to comment.
At Yokota on Wednesday, some people suggested the move to eliminate highway toll tickets for base-sponsored recreational purposes could backfire, eliminating options and perhaps inviting more chances for misconduct by U.S. personnel outside the gates.
"I see why the Japanese government would be doing it, but I don't necessarily think it's a good thing," said Paula Sloan, a Yokota Middle School teacher. "I don't think it'll solve any of the problems the Japanese might have with the U.S. military. It limits what people can do on weekends — without going out and causing problems.
"Someone here who's 18, 19, 20 years old, they're not going to be able to pay for tour tickets if they go too high. ... Instead, they might start getting into trouble in bars off base," she said.
Airman 1st Class Robert Gore of the 36th Airlift Squadron was unaware toll tickets are included with Yokota vehicle rentals but said he'd be more reluctant to rent one if they weren't. Base tours also give Americans stationed here an opportunity to see Japan with someone else at the wheel, he added.
"It wouldn't be good if they went away," he said. "If I was new, it's a good way to get off base for the first time."
----------------------------------
Expressway tickets have history of misuse
TOKYO — Highway passes provided to the U.S. military by Japan have a paper trail rooted in controversy.
From 1969 to 1994, American servicemembers and Defense Department personnel were issued plain white passes to access toll roads.
But 15 years ago, about 7,400 fake passes turned up across the country. Japanese police traced the forgeries to discount ticket shops in Tokyo, where they were being copied and sold for about $50 each.
The forged passes cost the Japanese government an estimated $95,000.
In February 1994, four Japanese men with ties to organized crime gangs were arrested in connection with the expressway passes. Japanese police said at the time that they believed one of the men acquired the passes from someone connected to Atsugi Naval Air Facility.
About four months after the scandal, the white passes were replaced by the green toll tickets in use today. The new forms require all U.S. Forces Japan organizations to maintain an accountability register.
In accordance with the status of forces agreement, the forms may not be used for privately owned vehicles, even if the driver is conducting official business.
The new highway passes are printed on paper designed to thwart counterfeiting and include a serial number.
The Japanese government has picked up toll costs for U.S. military vehicles in Japan since 1964.